Creating Kick-Ass Content – The Ultimate Guide
It takes about 11 minutes to read this article
Content is nothing more than valuable information. The challenge however is, that you – as a creator / sender – do not determine its value. The people reading, watching, or listening to your content do. This means you need to thoroughly understand who your (prospected) readers, viewers, or listeners are. What is their knowledge and understanding of the topic you're addressing? What situation are they in? And, what are their needs / challenges?
Once you know these things, you can create great content. Now, the next challenge is to turn your content into something appealing. Something that people actually want to read, watch, or listen to. This guide is intended to help you do exactly that: create kick-ass content!

You can read this entire article or jump right to…
Disclaimer – Just to be clear: all tips and tools mentioned in this article, are either my own favorites or recommended to me by others. There are no commercial interests for me to feature these tools. This article is in no way a paid advertisement.
---
👉 3 ways to discover interesting topics
You're eager to publish a piece of content; a well-written article, an amazing video, or an interesting podcast. However, you have no idea what to write, shoot, or record. No worries. There are a couple of ways you can find interesting topics for your content. Here are three.
1. There's an app for that
Other people's content can be very inspiring, as it can spark your own imagination. This could happen when you totally agree on something. Or, when you completely disagree. Either way, you can find other people's content when browsing your favorite news site. There's also a number of tools you can use to discover (trending) content.
BuzzSumo enables you to find content that gets a lot of social interactions (Likes, Shares & Comments). Use the Content Analyzer to find content on any topic you (and your readers) are interested in. Filter the content by date, country, language, et cetera. Please note that you'll need a pro account to use multiple filters at the same time.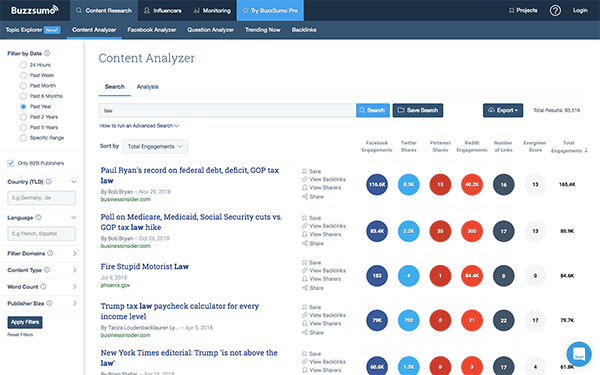 Another great tool to discover (popular) content is Pocket. Actually, Pocket is intended to bookmark the things you'd like to read. The plugin for Chrome, FireFox, or Safari enables you to bookmark any piece of content you find online. Pocket will strip the content to the bare essentials, i.e. text and some images. Great for reading! Don't have time to read? Install the Pocket app on your smartphone and have Pocket read the articles to you.
When a lot of people bookmark the same piece of content, Pocket understands that this content is probably interesting. The explore functionality allows you to find the most bookmarked content within a certain topic.
2. Research your audience (on LinkedIn)
Probably underused on LinkedIn is the possibility to research your audience. LinkedIn's advanced search functionality allows you to find any one on the platform. This direct link takes you straight to the search functionality. Click All Filters to get access to 13 (!) different search filters.
Now let's say you'd like to find out what general counsel from the United Kingdom are interested in. Select United Kingdom as the Location and scroll down to the Title field. Enter "general counsel" (in quotes) and hit the blue Apply-button to get an overview.
Go onto anyone's profile to find what they care about under Activity. Here you'll find all of their Articles (long form content), Posts (short form content), and interactions (Likes & Comments). Can't locate their Activity? Add /detail/recent-activity/ to their profile URL. The URL https://www.linkedin.com/in/jochemkoole/detail/recent-activity/ will take you directly to my activity on LinkedIn. Giving you the opportunity to get an idea of what I'm interested in.
3. Use the Persona Canvas
The good people of Design a Better Business are happily sharing some excellent tools on their website (under Free Tools). One of my favorites is the Persona Canvas. Obviously this canvas is about a persona. However, the focus isn't so much on personal demographics as you often see in traditional persona templates. Here the focus is more on negative trends causing headaches and fears, and positive trends creating opportunities and hopes.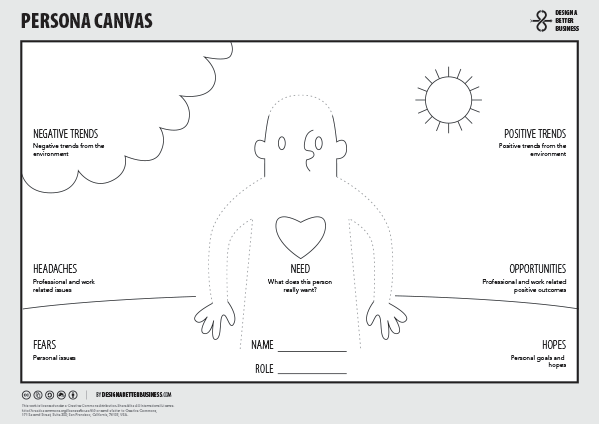 Contemplating these trends will definitely help you find some headaches or opportunities to write about. Your prospected readers will not only respect you for spotting trends relevant to them, they will also appreciate it when you help them overcome headaches and create opportunities for themselves and their businesses.
Download the Persona Canvas, read the step by step guide (on the same page), and get to work!
---
👉 The superpower of stories
Whatever form your content is going to take, you need to tell stories! Here's why.
When I attended South by Southwest in 2017, I was a little skeptical about storytelling. To me it was more a buzzword (like content or inbound marketing) than anything else. Christopher Graves however, changed my mind. The founder and chairman of Ogilvy's Center for Behavioral Science taught me a few important lessons:
People remember events (the things that happen to us) as stories. This is true, because we think in causes in effects. Our brains are hard-wired to do so. And stories – when you think about it – are nothing more than sequences of causes and effects.
Facts – contrary to what you might think – do not help people change their minds. Stories do. When we hear a story, all parts of our brains are activated. And when our brains are activated, it is as if we ourselves are experiencing the events we're told. We're actually "living" the story.
Narrative transportation is a powerful technique to change people's minds. Instead of telling a story from our own perspective, put yourself in your reader's (viewer's / listener's) shoes. This enables them to relate with what we're telling. Then, let your story guide them from their current situation to the desired outcome.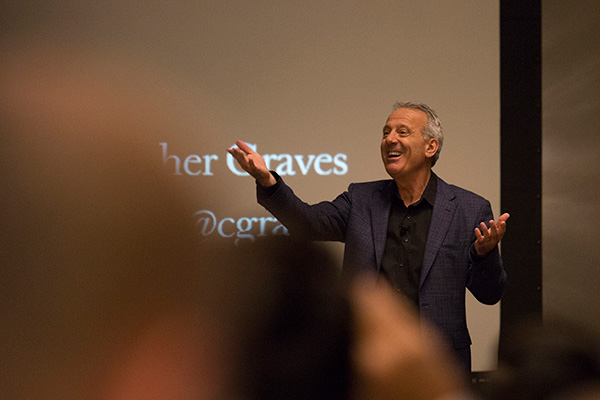 Some recommended additional reading on storytelling:
The Science of Storytelling – Useful quotes: "The brain, it seems, does not make much of a distinction between reading about an experience and encountering it in real life; in each case, the same neurological regions are stimulated." "The simple answer is this: We are wired that way [i.e. in stories]. A story, if broken down into the simplest form, is a connection of cause and effect. And that is exactly how we think." "The next time you struggle with getting people on board with your projects and ideas, simply tell them a story, where the outcome is that doing what you had in mind is the best thing to do."
The Stinky Cow Principle – Useful quotes: "Specifically, I ask them to recall a time in their lives when something happened that forced them to take action. Screenwriters (and readers of my posts) will recognize this as what Hollywood screenplay guru Robert McKee calls the "inciting incident". In the movies, inciting incidents kick off the action. Nemo gets lost. Vader kidnaps Leia. Harry meets Sally." "The big change that I got Max to make was telling his inciting incident as a scene ("…this stinky, rotting mass of flesh…I could barely breathe…") rather than as summary ("not working out"). The details, sights and smells put us right there with him in the van, forcing us to imagine ourselves facing the same decision he did."
Convinced that storytelling is the way to go for you? Download the Storytelling Canvas, read the step by step guide (on the same page), and get to work!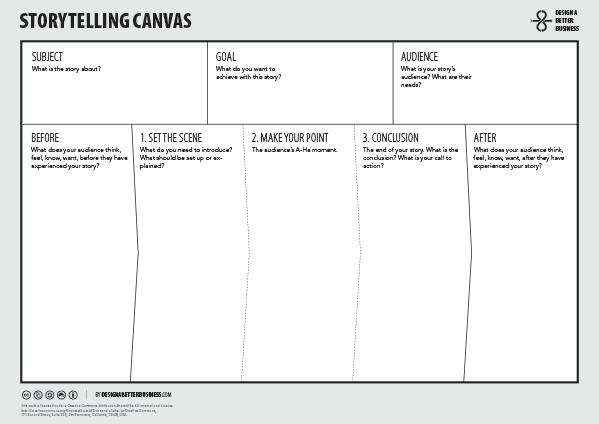 ---
👉 Write an article
You researched your topic, know your readers, and understand you need to tell a story. Now, it's time to actually write your article. Here are some practical tips – a checklist if you will:
Structure your article; immediately grab the users attention in the introduction, then formulate the essence of your story, and finish with a clear call to action, i.e. next step for the reader.
Connect with your readers in phrasing and style. Avoid jargon and explain terminology, unless you know your readers will understand.
Keep your paragraphs short and sweet. Honestly, I struggle with this, but apparently 5 to 6 lines per paragraph is fine.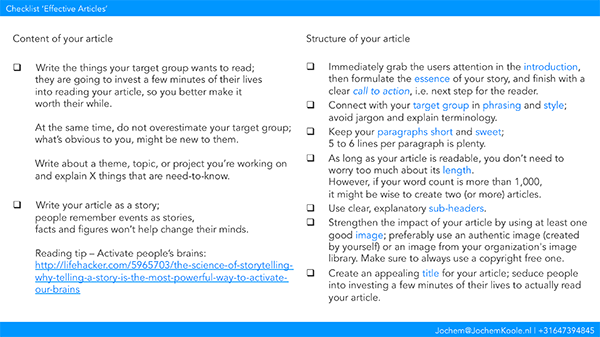 As long as your article is readable, you don't need to worry too much about its length. However, if your word count is more than 1,000, it might be wise to create two (or more) articles. Advice I happily ignored for this (corner stone) article.
Use clear, explanatory sub-headers.
Strengthen the impact of your article by using at least one good image (more about this under Make it visual). Preferably use an authentic image (created by yourself) or an image from your organization's image library. Make sure to always use a copyright free one.
Create an appealing title for your article. Seduce people into investing a few minutes of their lives into actually reading your article. Stuck? Here's a step-by-step guide on Writing Powerful Headlines by Neil Patel.
---
👉 Make it visual
As you probably read above, you need at least one appealing image for your content. But where do you find these? The quick answer: in your pocket (or purse). There's probably a smartphone there, which also happens to be a really great camera. Here are some basic, but great tips to make the most of the camera on your iPhone.
Of course, there are also some alternatives…
Find Google images you can actually use
Since Google indexed the internet, this is a great place to find pictures. However, you can not just use any picture you find. There might be copyrights or royalty fees that need to be paid. Instead of paying these, use Google's advanced search functionality to find pictures you can use, share, and edit for free – also for commercial purposes.
The pictures you will find probably have a Creative Commons license that says you can use these pictures, when you mention it's creator. Another way to find pictures like this is through CC Search, a search engine that helps you find images (but also music and media) you can use for free.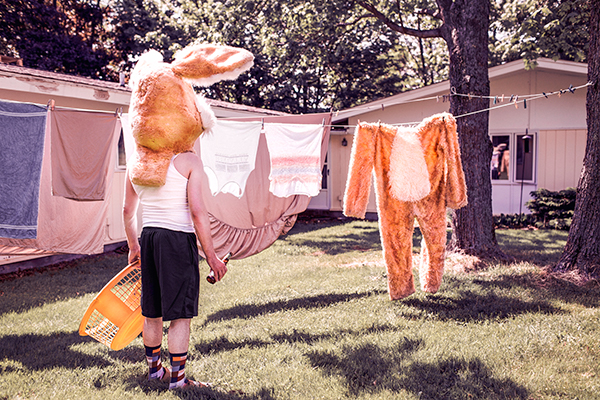 Beautiful (& quirky) free images
Unsatisfied with the results on Google or through CC Search? Check out the websites below. The images you find there all look nice, but may seem a little standard. This is definitely not the case for the quirky pics you can find on the first website.
Edit & create visuals
Before publishing your article, you might want to tweak your image a little. The Photography subscription for Adobe's Creative Cloud gives you access to the latest versions of Light Room (for photo editing) and Photoshop (basically for everything else).
Don't want to spend any money on an image editing tool? Try Pixlr. It's a basic online (and free) version of Photoshop.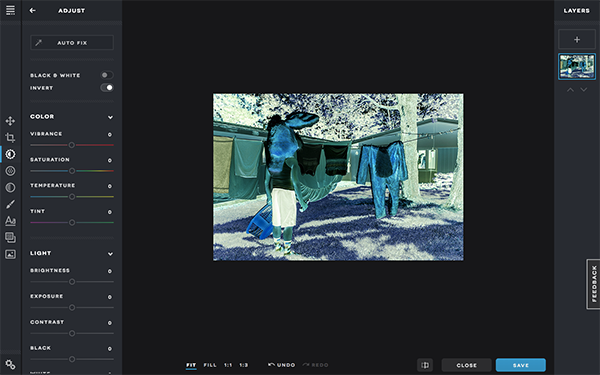 Rather work on your mobile device? Try Snapseed (for iOS or Android). The application was acquired by Google in 2012 and is what I call "Photoshop in your pocket". Also a fantastic application to do some quick fixes and retouches of the pictures you shot with your smartphone.
Adding icons & texts (+ some bonus tools)
And then there are several tools to add icons, texts, et cetera to your images. Handy, if you want to create images for social media and newsletter posts when distributing your content. There's the well-known application Canva, some alternatives (Snappa and Crello), and Pablo by social media management tool Buffer.
Speaking of icons and texts, here are some bonus tools:
---
👉 Make a movie
Instead of writing an article, you could also make a movie. The algorithms on most social media platforms love (native) videos and YouTube is still the number 2 search engine in the world. Making a movie could be a very effective way to get the right attention for your content.
Shoot your own material
The smartphone in your pocket (or purse) that takes great pictures, can also be used to shoot great videos. There's a number of apps that can help you optimize those videos. FiLMiC Pro is relatively expensive, but is apparently really good if you want to make your videos look more professional.
Besides the camera in your pocket, there are other options. Inhouse Filming is a company based in Leiden, The Netherlands. If you want to shoot your own videos, you can rent their yellow case – a kit with professional film equipment you can use to shoot great videos. To make your videos even better, the people of Inhouse Filming can train you in becoming a great filmmaker. They also happily edit your videos. So, the only thing you'll need to do is shoot some interesting material.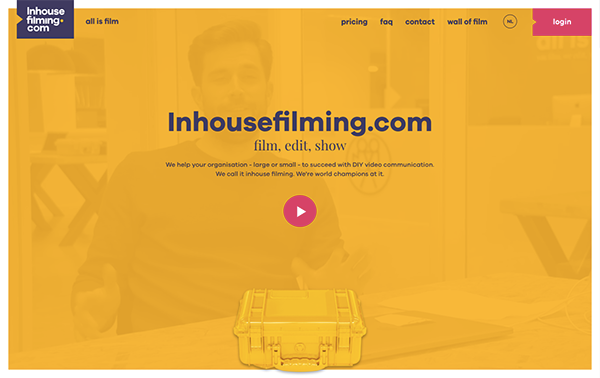 It's a little different from shooting videos with your phone or a camera, but you could also use the camera on your laptop. Loom is an application that allows you to record your screen. But also, record using the camera on your laptop. Obviously, very useful for presentations. You could, however, also use the application to record things on your screen and then use that as input for the video you're making.
Free video material
Don't have enough own material? No worries. On Pexels Videos (a sub-site by Pexels, mentioned earlier for beautiful pictures) you can also find a bunch of very nice stock videos. Pexels is one of the websites mentioned by TechRadar in their January 2019 article on best free stock video sites. Unable to find what you need on Pexels, check out the five other websites mentioned by TechRadar to see if they can fulfill your needs.
Editing your movie
When you have the material you need, you can turn it into a movie. Wave is an online video maker that helps you do this. The free version of Wave lets you create very short videos; max. 15 seconds. If you need more and you also want to save your work in MP4 format, you'll need to buy a starter or business plan. The benefit of a business plan (that sets you back at least $ 16.50 a month) is access to a video and image library of over 500,000 items.
Another online video creator is Animoto. The application, which you can test for free, enables you to create movies with different dimensions, suitable for different platforms. Animoto offers you prefab styles and storyboards, but you can also start creating a movie from scratch. To make the most of Animoto, you need a professional account. € 19.99 a month will give you access to such an account, including 2,000+ licensed music tracks and 1,000,000+ Getty images and videos.
Prefer to work on a mobile device? Jeroen Franken, owner of Blue Fish Social Media, recommends Videoshop. This funky application let's you trim and merge videos, add music, sound effects, and filters, and allows you to share your videos directly on popular social media networks.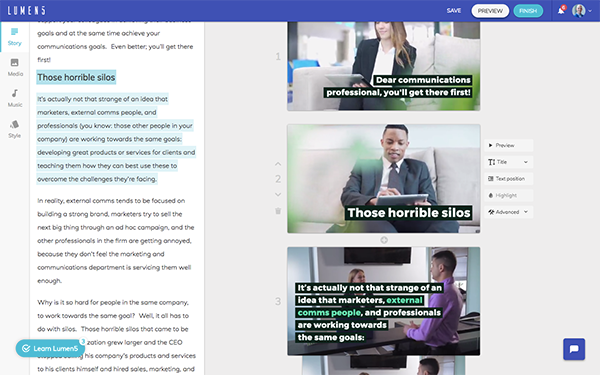 Not really a video editing tool, but nonetheless a very nifty one is Lumen5. This application allows you to turn written content, like the article you just wrote, into a video. All you need to do is provide the application with a link to your article and it will automatically generate a video. Yes, the content is very stock-y, and so is the music. But hey, it's a free and pretty neat way to maybe create a short video for your social media channels and get more readers for your article.
---
👉 Turn it into a podcast
"We should do a podcast," is what I hear quite often when I talk to people in knowledge-heavy B2B organizations. Doing a podcast could be a great idea. However, doing a podcast is definitely a lot of work. As with so many things, technology isn't the issue here. Coming up with the right format is. Just like choosing the right tone-of-voice, creating a rhythm (How often will you broadcast? How long will each episode be?), finding and – of course – reaching your audience. Those are the things that will take a lot of time, effort, and creative energy.
Forget the studio, do it online
Once all of the mentioned boxes are ticked, you can go ahead and record your podcast. Of course, you could buy all of the required equipment and then build your own studio. Alternatively, you can sign up for a Cast account. The application enables you to record, edit, and publish your podcasts. All on your laptop and all online. Cast gives a free month to test it out.
Rather work on a mobile device? Then, Anchor might be the app for you. The app allows you to host, record, edit, publish, and distribute your podcasts. As a bonus, you can also see how well your podcast is performing. Something that is not always easy with podcasts. For now Anchor is an app you can use free of charge. Anchor, that is backed with millions from Google Ventures, plans to make money by taking a cut on the podcasts they'll monetize.
---
Ultimate?
I promised you the ultimate guide for creating kick-ass content. However, let's face it, a guide like this is never completely finite. So, if you have additional tips and tools, a post in the comments below is much appreciated!
Main image: Jochem Koole, license: CC BY
Published on: 29 March 2019