Free dashboard to measure social business champions' impact
It takes about 3 minutes to read this article
Eventually, social business – or the commercial use of social media – is the responsibility of all of a company's employees. However, when you're implementing social business in an organization, you'll quickly find out that not every employee understands the commercial opportunities of social media and that not every one is equally willing and able to actually use their own social media accounts as business tools.
This doesn't have to be a problem…
Invest your time and energy in the social business champions, employees that understand social media's commercial possibilities and that are willing and able to use their own social media accounts as business tools. During a (pilot) project, let them experience what social business can do for them. Help them book successes and share these successes with the rest of the company to secure social business within the organization. The social business champions' successes are reported to three different groups of people:
the other champions – for a healthy competition
the rest of the organization – so they become (more) curious about the commercial possibilities of social media
the decision makers – to showcase that social business truly helps generate more income and savings for the organization
Before you can share these results, you'll obviously have to measure them. Something that can be done relatively easy using the social business champions dashboard which you can download for free on this website. In this article, I'll teach you the three steps in which you'll be able to realise a nice report every month.
Step 1 – Record social business champions data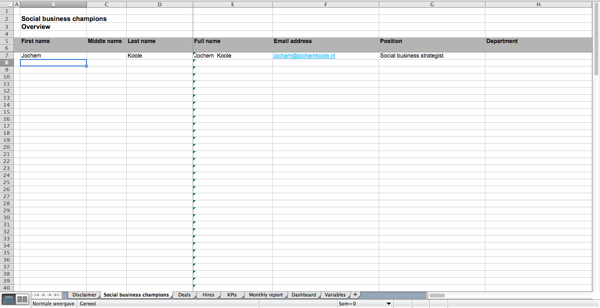 For each social business champion you can record their data on the tab page Social business champions. Enter their first name, middle name, and last name, their email address, position, department, and their role in the project.
Next, you'll enter the URLs of their personal social media accounts, which they will use during the (pilot) project to improve communications and the relationship with their target audience. Each month, you'll fill out the number of followers per account. In the case of LinkedIn, you'll have to get this information from the champions, because LinkedIn 'only' displays a person's first 500 connections.
Step 2 – Gather results each month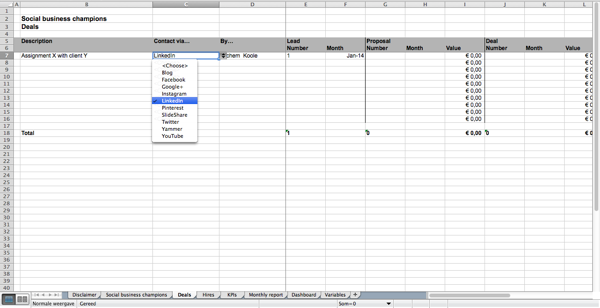 With this dashboard you'll be able to measure results for two types of (pilot) projects:
generating new business – with existing or new clients
attracting new employees
In the first case, you'll use the tab page Deals. Each month, you'll ask the social business champions whether they generated leads (conversations with potential clients on new business) and if there had been any contact via social media between them and the potential client in establishing this lead.
Keep in mind: a lead is almost never solely generated through social media. It's about monitoring whether social media contributed to generating a lead.
Next, you'll ask them monthly whether the generated leads converted into proposals and whether these proposals converted into deals. For leads, proposals, and deals you'll write down the month they were generated. For proposals and deals you'll also write down their value.
In a similar way you can check whether a contribution to establishing new hires was delivered through social media. For this you'll use the tab page of the same name. You'll measure applications (number of responses to a vacant position) and the number of interviews and hires based on these applications.
Step 3 – Fill out KPIs monthly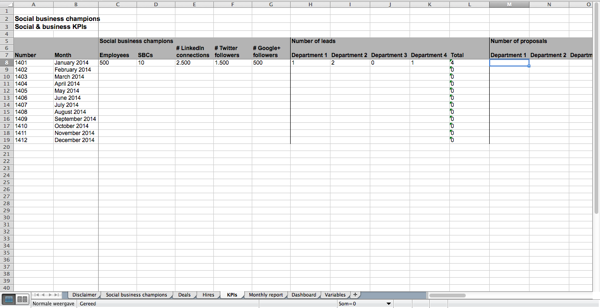 Each month, you'll fill out the KPIs on the tab page KPIs based on the requested results. Each row contains the result of 1 month. Enter the number of employees and the number of social business champions (SBCs). Sharing the booked successes will lead to more champions within your organization.
For each medium used fill out all connections of the champions, enter the number of leads, proposals, deals, applications, interviews, and hires. If you wish to compare different departments, you can break down these results for each department.
The result is a nice report
When you fill out the required data, a nice report will automatically be generated on the tab page Monthly report. The only things you'll have to do is adjust the number (1401 for January to 1412 for December), replace the word MONTH in the title and enter a date for your report.
The report is designed to fit on two A4s.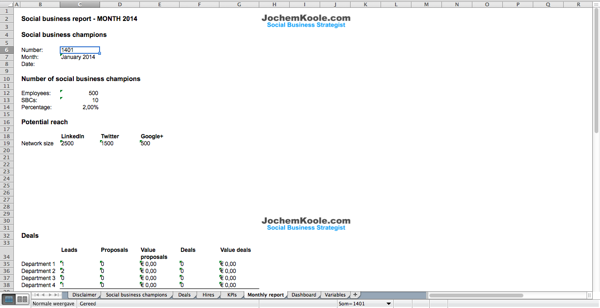 An overview of the successes by the social business champions is automatically generated on the Dashboard tab page over time. This way you'll be able to monthly see their impact.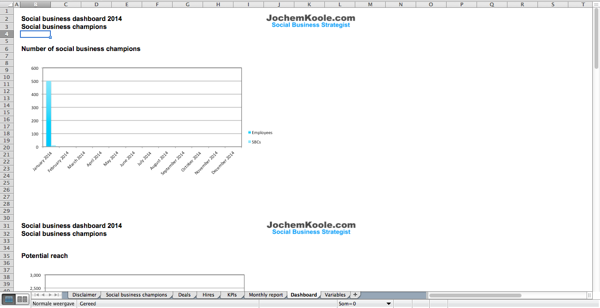 Order this social business champions dashboard for free and get started today!
Disclaimer
No rights can be derived from using this dashboard. Should you have any questions or remarks on the use of the dashboard, don't hesitate to contact me through the contact details on this website.
Feel free to adjust the dashboard based on your own insights and needs. On the tab page Variables you can add or adjust variables.
If you feel the dashboard could be improved, I really appreciate hearing from you as well.
Main image: Jochem Koole, licentie: CC BY
Published on: 7 July 2014